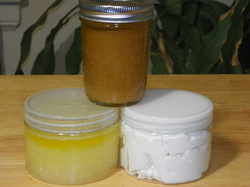 Finding gluten free products for your hair, face and body can be challenging. I love facial and body scrubs, but shopping in stores that do not disclose their full ingredients on products has made it difficult to buy these products. I have created three gluten free DIY products that you can make at home. They are simple, quick and the ingredients can be purchased in your local supermarket and beauty supply store.
DIY Gluten free facial scrub made with coconut oil, granulated and brown sugar.
https://www.youtube.com/watch?v=ux6e0AJlF8U
DIY Gluten free body scrub made with sea salt, granulated sugar, coconut oil and olive oil.
https://www.youtube.com/watch?v=QE0L_Z3S67o
DIY Whipped Raw Shea Butter with Coconut Oil (for your hair and body)https://www.youtube.com/watch?v=G2rdECiqL9w
Enjoy the videos!
XOXOXOX
Dawn