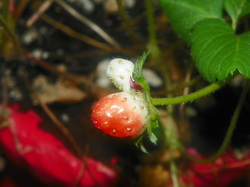 My oldest son loves to grow things.
He enjoys planting different types of fruits and vegetables. We are very fortunate to have lots of windows with natural sunlight.
Yes, all of his gardening is done in doors. My son purchased a young strawberry plant last year.
Now that young plant is growing fruit.
You are probably thinking that the strawberries are extremely small.
They are actually the correct size for a young strawberry plant that is grown without GMOs and chemicals that enhance fruit production.
Unfortunately we have become a society that is accustomed to fruits and vegetables that are chemically enhanced. This has made it difficult to recognize fruits and vegetables in their "natural" or "organic" form.
Enjoy the pictures and please email or post comments.
XOXOX
Dawn