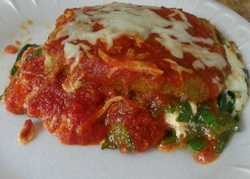 Breaded Spinach Eggplant Parmesan (Featuring Schar Gluten Free Bread Crumbs)


Ingredients
Schar Gluten Free Bread Crumbs


Pasta Sauce (2 jars)
Spinach (1 pound optional – you can use more or less)
Eggplants (2 are adequate for one pan)
Ricotta Cheese (1 large container)
Mozzarella Cheese (4 cups)
1 Onion
1 Red Pepper
1 Garlic Bud
Olive Oil
Sea Salt
Pepper
Step 1: Prep Work
Preheat the oven to 350 degrees
Wash the outside of the eggplant, dry and peel the skin
Cut the eggplant into slices (the slices should resemble sliced bread)
Place the sliced eggplant in a container or bowl and set aside
Rinse and chop the red pepper and tomato then place in a bowl and set aside
Chop the onion and entire garlic bud add to the bowl with the red pepper and tomato
Rinse and coarsely chop the spinach, place in a bowl and set aside
Place a generous amount of olive oil in a skillet and heat with a low flame
Add the following into the skillet with olive oil: the onions, red pepper, garlic and tomatoes. Sauté with low heat until slightly cooked
Salt and pepper to taste
Remove mixture from the skillet, place in a bowl and set aside
Step 2: Prepare the Eggplant
Empty the package of Schar Bread Crumbs into a bowl, plate, platter or cutting board
Fill a clean bowl with water
Dip the sliced eggplant one by one into the water and then into the Schar Bread Crumbs
Coat both sides of the eggplant with the bread crumbs
Repeat this step until all of the sliced eggplant is coated with bread crumbs
In a clean skillet add a generous amount of olive oil and heat with a low flame
Place the slices of breaded eggplant into the skillet, cook on both sides until golden, remove from the skillet and place on top a paper towel on a plate (or platter). Continue this process until all of the eggplant is cooked.
Step 3: Assemble the Dish
Add a small amount of pasta sauce to the bottom of a pan. This will prevent the breaded eggplant for sticking or burning while in the oven.
Layer the breaded eggplant slices until the bottom of the pan is completely covered. It is okay for the slices of eggplant to overlap.
Cover the breaded eggplant with the sautéed onion, garlic, tomato, red pepper mixture.
Add a layer of spinach, topped with mozzarella and ricotta cheese.
Repeat these steps until you reach to the top of the pan. Make sure the final (or top layer) consists of breaded eggplant topped with pasta sauce and mozzarella cheese.
Cover the pan with aluminum foil, place in the oven and cook at 350 degrees for 45 minutes.
Remove pan from the oven, uncover and let side for 20 minutes. Your dish is ready to serve.
For a video demonstration on how to prepare this recipe watch the Gluten Free Eye Channel on YouTube: http://www.youtube.com/watch?v=-q6BUUJyS4g
Enjoy!
XOXOXOX
Dawn