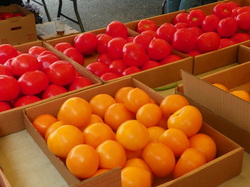 #June FunFood Never underestimate the power of Tomatoes.
Tomatoes are a rich source of vitamins A and C and folic acid. Tomatoes contain a wide array of beneficial nutrients and antioxidants, including alpha-lipoic acid, lycopene, choline, folic acid, beta-carotene and lutein.
As plant food consumption goes up, the risk of
heart disease
,
diabetes
, and
cancer
goes down. High fruit and vegetable intake is also associated with healthy skin and hair, increased energy and lower weight. Increasing consumption of fruits and vegetables significantly decreases the risk of
obesity
and overall mortality.
According to the
American Cancer Society
, some studies have shown that people who have diets rich in tomatoes may have a lower risk of certain types of cancer, especially cancers of the prostate, lung, and stomach.
Choline is an important nutrient found in tomatoes that helps with sleep, muscle movement, learning and memory. Choline also helps to maintain the structure of cellular membranes, aids in the transmission of nerve impulses, assists in the absorption of fat and reduces chronic
inflammation
.
Tomatoes also come in a variety of colors red, orange, yellow and green.
They are healthy, have great taste and can make any dish look attractive .
source:
http://www.medicalnewstoday.com/articles/273031.php
XOXOXOX
Dawn