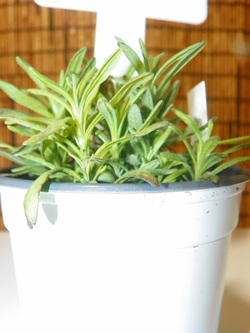 I purchased this baby lavender plant at the farmers' market last week.
I love lavender!
I am going to grow this plant in an indoor garden, so I can enjoy its beauty.
To some this may seem strange since lavender is a very trendy herb with numerous uses.
Historically lavender is grown for commercial use. Specifically for producing essential oil to be used in balms, salves, fragrances, perfumes, bath products, topical creams and lotions.
The flowers of the lavender plants are also used as a cake decoration.
Lavender is a popular tea blend.
It is frequently combined with green, black an herbal teas.
I personally love lavender for its aromatherapy properties.
Placing a few drops of pure lavender oil on your pillow case can help you to relax at night.
Rubbing a small amount of pure lavender oil behind both ears and on your temple can aid in relieving a headache. Lavender plants do not require a lot of attention.
A little water and a lot of sunlight is all you need.
Sunlight aids in the releasing of the plants fragrance. Lavender looks pretty, smells wonderful and most of all it is gluten free.
XOXOXOX
Dawn