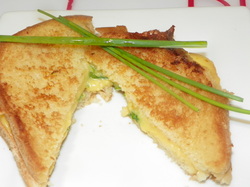 May is Celiac Awareness month!. Please join me and other member of the social media community on twitter to discuss the issues surrounding custom eating. To kick off this event, I have created a gluten free version of grilled cheese. This recipe includes gluten free cheddar cheese and chives. I hope you will try this recipe. Grilled cheese is loved by children and adults. Below is the link to my video tutorial:
https://www.youtube.com/watch?v=ouCB2mth9hc
I hope you will enjoy!
XOXOX
Dawn