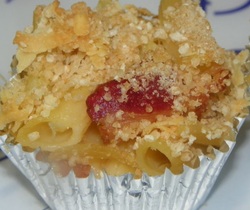 To celebrate Celiac awareness month, I converted a recipe for a family favorite - mac & cheese. I created a recipe for a traditional mac & cheese, a mac & cheese with chives and a mac & cheese with Bacon and Bread Crumbs. I used Ronzoni's gluten free pasta and 4C Bread Crumbs. I baked each recipe in a cupcake tin. Baking mini mac & cheese dishes provides the opportunity to taste all three dishes. The cupcake tins are also great for parties, school events and workplace pot luck events.
This was my first experience using #Ronzoni gluten free pasta and #4C gluten free bread crumbs. I was very pleased with the consistency of the pasta and the bread crumbs. I will definitely use both again in a future recipe.
Below is the link to my video tutorial. I changed the format of my video. I combined music with a narration, Please share your feedback with me.
Gluten Free Mac & Cheese 3 Recipes: Chives, Traditional & Bacon
http://youtu.be/M8sXXAAxmwc
Thanks for reading my blog!
XOXOXOXOX
Dawn