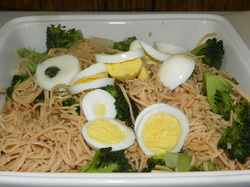 If you are looking for an alternative to gluten free pasta, this may be the dish for you! Explore Asian's Organic Soybean Spaghetti Shape provides a tasty unique flavor. I used the product to create a beef broth bowl for my family. This recipe is quick to make and it is tasty. For a tutorial on how to prepare this dish, please watch my video:
https://www.youtube.com/watch?v=ChnIJg2AioI
Please note: this product is gluten free and vegan. If you wish to make this a vegan dish, substitute the beef broth with vegetable broth. I hope you will enjoy!!!!
XOXOX
Dawn