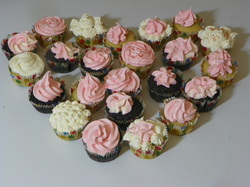 Betty Crocker Gluten Free Cake Mixes are wonderful! They provide a quick way to make tasty treats. Photographed are my Devil's Food and Yellow cupcakes. I used the strawberry and vanilla frosting. For a tutorial on how to bake and decorate the cupcakes, please watch my YouTube video:
https://www.youtube.com/watch?v=Eu1DEqVKMUU
Also, please note that pictures of my baked good and prepared recipes can now be found on Instagram: dawnbrangman. I hope you enjoy the video and the pictures.
Happy Valentine's Day
XOXOXOX
Dawn