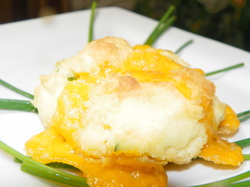 I made these delicious biscuits with Betty Crocker's Bisquick Gluten Free. These biscuits are very easy to make. Follow the instructions on the box, add fresh cheddar cheese and chives to the mix. For a demonstration, please watch my cooking tutorial video:
https://www.youtube.com/watch?v=7FqhQGXIqg4
Thanks for reading my blog and watching my videos!
XOXOXOXO
Dawn