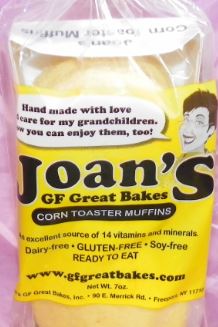 If you are looking for a corn muffin with great taste try Joan's Corn Toaster Muffins!
These muffins require toasting before eating.
The muffins are light, tasty and visually appealing!
The muffins are sold 4 to a package.
Whole Food's carries this product for $9.99, but you can purchase this product directly from the website:
www.gfgreatbakes.com for
$8.50. On a scale of 1 to 10 (1 = the worse and 10 = the best); I give this product a 9.
I had others purchase and taste this product.
They all agreed about the taste, but felt the price point was a little high.
BUT in the gluten free world, there is typically a high price tag attached to quality goods.
These muffins are worth the cost!!
XOXOXOX
Dawn