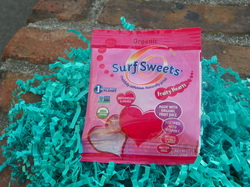 #gfafexpo# On a scale of 1 to 10 (1 = the worst & 10 = the best)
Surf Sweets' Fruity Hearts are a 10!!!
I was introduced to this product at the Gluten Free & Allergen Free Expo in New Jersey this weekend.
I was amazed!
This powerhouse sweet treat was part of my official blogger swag package and it left me wanting more. In addition to great taste, this product is gluten free, dairy free, casein free, and vegan. There are no artificial colors or flavors.
To purchase this product and to review Surf Sweets' full product line, visit: http://www.surfsweets.com/
XOXOX
Dawn