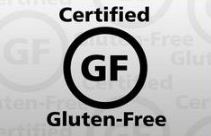 Now that information about Celiac Disease and Gluten Intolerance is readily available there are numerous products on the market to purchase.
For the average consumer it is difficult to determine the difference between products and their claims.
This post is going to discuss what it means to be certified gluten free.
Products that display the Certified Gluten Free logo have been inspected and verification has determined that the quality, purity and integrity of the products are incompliance with the strict requirements of the gluten free standard. There are three organizations that certify products as being gluten free: Gluten-Free Certification Organization (GFCO), the Celiac Sprue Association (CSA), and the National Foundation for Celiac Awareness (NFCA). Although each of these organizations has the same goal, obligating manufacturers to disclose the amount of trace glutens in their products, their methods of testing varies. The Gluten-Free Certification Organization and the National Foundation for Celiac Awareness' testing standard requires food to contain less than 10 parts per million (ppm) of gluten. While the Celiac Sprue Association requires foods to have less than 5ppm and also requires foods to be free of oats (even gluten-free oats). Testing also includes product reviews and random onsite testing of processing facilities.
The manufacturer also incurs a financial cost that is associated with the auditing process.
What does this mean for the average consumer?
These organizations relieve the average consumer of burden of researching and locating data on the manufacturing process of products.
It is unlikely that a manufacturer will undergo this lengthy and expensive process to obtain the GF certification and later violate the guidelines.
Also, purchasing Certified Gluten Free products helps to eliminate the opportunity of being exposed to glutens.
For additional information, please visit the following:
http://celiacdisease.about.com/od/glutenfreefoodshoppin1/a/Certified-Gluten-Free-Products.htm
http://www.gfco.org/
http://www.csaceliacs.org/
http://www.celiaccentral.org/
XOXOXX
Dawn