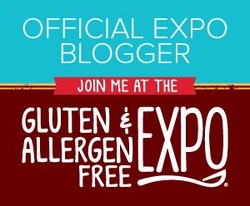 It is official....I am a member of the NJ GFAF Expo Blogger Team! Please join me at the Expo on Saturday, September 6th and Sunday, September 7th. This annual expo provides a wonderful opportunity to discover new products, meet manufacturers and the local vendors that are servicing the gluten and allergen free community. It also provides the prospect of networking and interacting with various GFAF support groups.
I will be reviewing products, speaking with vendors and attending discussion panels. I will be sharing information about the expo on Twitter: @glutenfreeeye, Facebook: facebook.com/dawn.brangman and my blog on the glutenfreeeye.com website. My glutenfreeeye.com YouTube channel will be launched during the expo ad will feature videos filmed during the expo.
For additional information follow the expo on twitter:
@gfafexpo
and Facebook:
www.facebook.com/gfafexpo
Please check my blog and Facebook page for information on how to receive free tickets to the expo. Also, if you are interested in purchasing tickets please go to http://gfafexpo.com/locations/edison-nj/#tickets and enter the
code EXPONJ20 for 20% discount
off the ticket price.
I am excited and look forward to sharing my experience at this amazing event with you!
XOXOX
Dawn